China corruption: Guangzhou's Wan Qingliang probed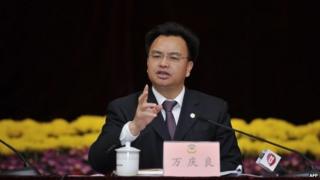 The Communist Party leader of the major southern Chinese city of Guangzhou is being investigated for corruption, a party disciplinary commission has said.
Wan Qingliang is suspected of "serious disciplinary violations", a term generally used to indicate corruption.
Mr Wan is regarded as the city's top official, ranked above the mayor.
Tens of thousands of officials have been arrested since President Xi Jinping began an anti-corruption campaign in 2012.
Mr Xi has warned that the party's very survival is threatened by corruption and has vowed to root out every corrupt official, whether "tigers" or "flies".
A central government audit recently uncovered 314 serious disciplinary violations, up from 175 serious cases revealed the year before, the BBC's Celia Hatton in Beijing reports.
Correspondents say that before the investigation Mr Wan had been seen as a rising star in the Communist Party, developing a reputation for frugality while serving as Guangzhou's youngest ever mayor.
Guangzhou is one of China's largest cities and the capital of the economically significant Guangdong province, which borders Hong Kong.
But the province has been hit by scandals over prostitution and the so-called "naked officials", referring to civil servants who send money to family members living abroad leaving them with few assets in China.
A recent investigation found more than 1,000 such officials in the province.