China's ex-security boss Zhou's aide targeted over corruption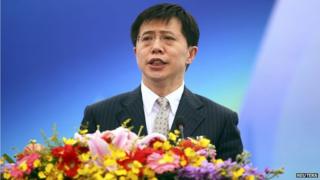 A former aide to Zhou Yongkang, China's retired chief of domestic security, has been expelled from the Communist Party in an anti-corruption drive.
Ji Wenlin, formerly a deputy governor of the island province of Hainan, was accused of "taking huge bribes" and adultery, a party watchdog body said.
He is the latest in a series of Zhou aides to be accused of corruption.
The crackdown has sparked speculation that Mr Zhou, once one of China's most powerful men, will also face charges.
The former member of the Politburo, China's elite decision-making body, is already alleged to be under investigation for corruption and abuse of power.
Sources have told the Reuters news agency that Mr Zhou is under house arrest, although no official announcement has been made about his fate.
Tens of thousands of officials have been arrested since President Xi Jinping began an anti-corruption campaign in 2012.
The president has warned that the Communist Party's very survival is threatened by corruption and has vowed to root out corrupt officials at all ranks of the party, whether "tigers" or "flies".
Mr Ji was one of three officials expelled from the party on Wednesday, according to a statement on the website of the party discipline watchdog.
The other officials were named as Yu Gang, a former deputy head of the general office of the party's Commission for Political and Legal Affairs, and Tan Hong, a former senior officer in the Ministry of Public Security's guard bureau.
Both were accused of taking bribes.