China media: South Korea ties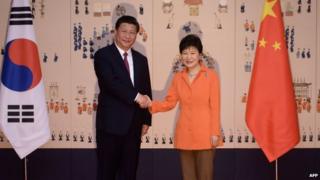 Chinese papers praise Seoul for "maintaining peace on the Korean Peninsula" and not "playing into the hands" of the US.
Beijing and Seoul reaffirmed their opposition to North Korea's nuclear tests during a meeting between visiting Chinese President Xi Jinping and his South Korean counterpart Park Geun-hye.
It is the first time a Chinese leader has visited Seoul before Pyongyang. At a joint press conference with Ms Park, the Chinese president said denuclearisation of the peninsula was a common goal and must be achieved through dialogue and negotiation.
Media and experts are mostly analysing Seoul and Beijing's role in "maintaining regional peace", but without being too critical of Pyongyang.
Wang Yiwei, an international affairs expert with Renmin University, says South Korea is a key player in maintaining a peaceful and nuclear-free Korean Peninsula.
"The world has over-emphasised the influence of US-North Korea or China-US ties without paying enough attention to South Korea's role in the issue," he is quoted as saying in a Xinhua report.
He adds that Beijing and Seoul have become "regional stabilisers" in the face of deepening territorial tensions, the rise of right-wing views in Japan and Pyongyang's nuclear problems.
The Global Times' Chinese edition notes that both China and South Korea have "all along remained rational".
It praises South Korea's "power balance", adding that Seoul has been "acting as a buffer between Beijing and Washington and it has gained more strategic interest than Tokyo".
It also describes Asian countries which "completely lean on the US for security" as "foolish" and warns that these countries "have a childish fantasy thinking that the US will support them when they confront China".
War history
Elsewhere, the State Archives Administration has started publishing confessions made by 45 Japanese war criminals tried and convicted by military tribunals in China after the second World War.
The handwritten confessions, along with translations in Chinese and abstracts in both English and Chinese, will be published online every day over a 45-day period starting from Thursday, according to the Beijing News.
"We are releasing these archived documents as hard evidence of the crimes that Japan committed on the Chinese people," Li Minghua, deputy director of Central Archives of China, said on Thursday.
He added that the release of the documents can be seen as "a strike-back action on right-wing forces in Japan" because Tokyo was trying to "beautify its invasion history".
The China Daily welcomes the publication of the documents.
"The decision by China's State Archives Administration to publish the handwritten confessions of convicted Japanese war criminals deserves applause because it provides solid counter-evidence to what the brazen Abe and his like-minded compatriots are peddling about their country's war of aggression," it says.
Echoing similar sentiments, Zhu Chengshan, director of Nanjing Massacre Memorial, suggests that China should "lodge an international case against Japan for infringement of human rights".
BBC Monitoring reports and analyses news from TV, radio, web and print media around the world. For more reports from BBC Monitoring, click here. You can follow BBC Monitoring on Twitter and Facebook.