China media: Hong Kong's political future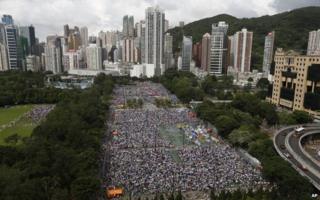 The issue of electoral reforms in Hong Kong is back in the media spotlight as China's top leaders hold meetings on its political future.
The Standing Committee of the National People's Congress is holding a week-long session to discuss how Hong Kong picks its leader.
The committee is likely to announce its official stance next week.
Beijing says Hong Kong residents can elect their leader in 2017, but critics expect Beijing to screen candidates via a nominating committee
Most reports say Beijing will allow only two to three candidates to run for Hong Kong's chief executive post in the 2017 election.
Papers say open nominations will not be allowed, but activists want no restrictions on the nomination of candidates
Pro-democracy activists, who have criticised Beijing for screening candidates, have pledged large-scale civil disobedience if an acceptable agreement is not reached.
However, media and experts in China are urging Hong Kong to accept the "political realities".
Wang Zhenmin, the dean of Tsinghua University's Law Faculty, says Hong Kong "should not miss the election opportunity".
"Hong Kong has never come so close to realising the goal of having universal suffrage… The plan might not be the ideal one for everybody, but this is an important step ahead," the China News Agency quotes him as saying.
"If there are people who still hold on to their prejudice and act out of their self-interest, I doubt that the dream of universal suffrage will come true," warns the pundit.
Writing in the state-run China Daily, a Hong Kong-based journalist criticises the opposition group Occupy Central for holding "illegal campaigns" in the territory.
The article notes that thousands of local residents petitioned against the group earlier this month and "rejected this illegal campaign designed to paralyse Hong Kong's financial district".
Voicing strong support for the central government, the article says the Communist Party has always "adhered" to the principle of democratic consultation.
However, media in Hong Kong are worried about the territory's political future.
The South China Morning Post notes that the central government has "moved a step closer to a showdown with pan-democrats" and that the framework for the election will be "tougher-than-expected".
The Ming Pao daily notices "the change in the central government's way of thinking".
The paper's editorial points out that Hong Kong's political system will "remain as it is" because Beijing has "left no room for further discussions".
"Beijing is prepared and is no longer afraid that troubles might brew in Hong Kong," it says.
BBC Monitoring reports and analyses news from TV, radio, web and print media around the world. For more reports from BBC Monitoring, click here. You can follow BBC Monitoring on Twitter and Facebook.