China media: Xinjiang mixed marriages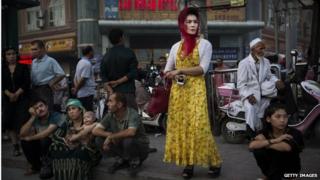 Media discuss efforts to promote "ethnic unity" in Xinjiang as local authorities hand out incentives to encourage "mixed marriages".
According to the China News Service, authorities in the southern Qiemo county in Xinjiang are offering "huge gifts" which include a 10,000 yuan (£988, $1,627) cash reward per year for five years, and other welfare benefits for new marriages in which one member is Han and the other is from an ethnic minority.
Uighur Muslims dominated Xinjiang's population until heavy migration of Han, the largest ethnic group in China, began in the region.
Several media outlets have noted reports in Western media outlets that the authorities are promoting Han migration and inter-ethnic marriages "in a bid to quell the Uighurs".
The autonomous region, in China's far west, has seen an upsurge in violence in recent months, which Beijing blames on Uighur separatists.
A few news portals have published articles supporting the policy, and suggest that the plan should also be implemented elsewhere.
However, the Global Times has observed scepticism over the scheme with some arguing that authorities should not intervene in citizens' personal matters.
According to the paper, local officials have stopped publicising the policy amid increased media attention.
"The intention of the policy is good, but it has to be carefully implemented… It might end up strengthening ethnic identity and create social pressure on [mixed-race] families," warns Li Xiaoxia, a professor with the Xinjiang Academy of Social Sciences, adding that mixed marriages are "rare in Xinjiang and are not likely to spread".
'Militarism in Japan'
Meanwhile, papers commemorate the 69th anniversary of China's second war with Japan.
Japanese forces invaded and occupied Manchuria in northern China in 1931. A wider war between the two countries began in 1937 and ended with Japan's surrender in August 1945, days after the US dropped atomic bombs on Hiroshima and Nagasaki.
The commemorative event comes amid strained ties between Beijing and Tokyo over historical issues and territorial disputes.
Several papers have published editorials and articles recalling the "disasters and suffering that the invasion caused", while warning against the "revival of militarism in Japan".
"The celebration of the victory is not only to commemorate the event, but it is also in defence of peace… Until today, lessons from history must still be remembered as the right-wing forces in Japan are still white-washing history and becoming more aggressive," says the People's Daily.
And finally, several media outlets have warned against "separating the party from the country", after pro-democracy activists in Hong Kong threatened to stage large-scale civil disobedience activities.
On Sunday, the Chinese government ruled out open nomination of candidates for the Hong Kong chief executive election in 2017.
The move sparked anger among pro-democracy groups and activists who accuse Beijing of breaking its promise to allow Hong Kong to choose its leader directly.
Beijing has stressed that the chief executive has to be "someone who loves the country and Hong Kong".
"There are some people who are unhappy over this criteria, saying that this is an ideological requirement," notes an article in the overseas edition of the People's Daily.
"The central government is making this clear because some people in Hong Kong have publicly confronted the central government during their political activities. How would Hong Kong benefit if these people are allowed to lead the territory?" the paper argues.
Echoing similar views, the Global Times' Chinese edition notes that some "radicals in Hong Kong" are promoting the idea that "being patriotic does not equate to loving the party".
BBC Monitoring reports and analyses news from TV, radio, web and print media around the world. For more reports from BBC Monitoring, click here. You can follow BBC Monitoring on Twitter and Facebook.