Hong Kong protests: Beijing's tricky balancing act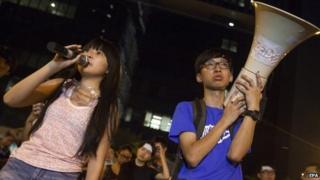 Throughout the day there was a carnival-like atmosphere.
Students handed out bottles of water, biscuits, bread and bananas to fellow protesters.
They lent a helping hand as demonstrators climbed makeshift, wooden ladders over the concrete barricade on to the main road.
Loudspeakers crackled every few minutes.
Thousands of protesters had brought one of the mightiest financial centres on the planet to a complete standstill, forcing companies to close and the stock-market to slump.
The gleaming skyscrapers dwarfed the protesters as they held up placards calling for democracy.
Bargaining chip
This is the largest campaign of civil disobedience in Hong Kong in years.
Some demonstrators carried umbrellas emblazoned with the word "revolution".
This is strong stuff - even in Hong Kong, where people are guaranteed rights such as freedom of speech that those living in mainland China can only dream of.
"We want Beijing to fulfil its promise and let people in Hong Kong control the city," said Joe Cheung, 41, a computer software worker.
"It's really affecting our life, our city, our work, everything.
"We're not worried what will happen. We will fight to the end. We need to defend our city."
Some of the protesters were even preparing for violence.
Organisers had set up first aid tents.
I also saw a group of young students soaking small towels in a red bucket full of water.
They were distributing them to protesters so they could cover their mouths if the police resorted to firing tear gas as they did on Sunday night.
The police had wanted to clear the protesters out of the business district but instead they provoked more defiance.
"I can't believe they used tear gas," said Gary Loong, 32, who joined the crowds after he finished work.
"We don't want bloodshed. But we have to shut down the business district as it's our only bargaining chip."
Public Enemy No 1
As night fell, cheers rippled through the crowd.
Many office workers joined the protesters or stood on bridges watching the remarkable scenes.
On several occasions, hundreds of people held up their mobile phones with their torch lights on. It was like embers in the night sky.
The only jeering I heard was when protesters held up a huge portrait of Chief Executive CY Leung and carried it through the crowd.
For the demonstrators he is now Public Enemy Number One and they have called on him to resign.
Many other people in Hong Kong are not on the streets and think the protesters are pushing their luck with Beijing. They also fear that growing protests could lead to instability, and the possible flight of capital.
For all the defiance among the protesters who are here, there is no sign that Beijing is listening. It has said that these demonstrations are illegal.
And with neither side appearing willing to back down, the danger is that the protests could spiral out of control.