China media: Washington ties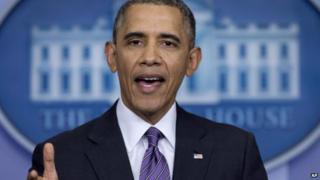 Papers are discussing Beijing-Washington ties against the backdrop of US mid-term election results.
Republicans made historic gains in the mid-term elections and now control both US legislative chambers. Throughout the campaign, Republicans focused on voter dissatisfaction with Mr Obama, a Democrat, describing the vote as a referendum on his presidency.
Mr Obama is due to visit China next week to attend the Asia Pacific Economic Co-operation (Apec) summit in Beijing. He is also due to meet Chinese President Xi Jinping on 12 November.
Chinese papers and experts are analysing the impact of the poll results on Mr Obama's foreign policy and Washington's relations with Beijing.
Jin Canrong, an international relations expert with Renmin University of China, tells the Qianjiang Evening News that Mr Obama will face difficulties in managing domestic politics and he may end up focusing more on diplomacy for the rest of his term to "achieve results".
"Mr Obama can either carry on with his 'pivot to Asia' policy and continue to view China as the opponent, or he can change the policy... and seek cooperation with China," the pundit says.
He adds that co-operating with Beijing is a "rational choice" that will "achieve results easily".
Zhang Xun, a commentator with China Central Television, however, feels that it is unlikely that there will be any significant strides in the upcoming meeting between Mr Obama and Mr Xi.
"There may not be any concrete changes in the Sino-US relations," he tells the Global Times' Chinese edition, adding that Mr Obama has been requesting Beijing to shoulder more responsibilities in world affairs, but "in his heart, he does not want China to take the lead".
Obama's 'moderate' policy
In its usual hard-line commentary style, the nationalist-leaning Global Times predicts that the Congress "which has often bashed China, may take an even tougher line in the future".
Describing the midterm election as an "American-style political farce", the paper hails China for having the "ability to change" and adopt "extensive reforms".
However, in a rare remark, the paper, which often criticises the Obama administration for attempting to "contain China", concludes that Mr Obama's foreign policy has been "moderate"
"Obama's pivot to Asia strategy has brought China many troubles. But generally, Obama's foreign policies can be seen as moderate. Sino-US relations may not degrade so much that they disintegrate, but a taste of bitterness will always linger," says the daily.
Anti-corruption network
Meanwhile, papers welcome a proposed plan that calls for international co-operation to fight corruption.
The Beijing News reports that the member states of the Apec are expected to endorse a plan to set up a new regional anti-corruption network to prevent officials from escaping overseas with massive wealth.
The report says that Beijing is confident that the nations will reach a consensus during the meeting and will agree to share information on corruption investigations.
"These corrupt officials are running away with huge amount of wealth, hurting the fairness and justice of the society. This is a problem in the current anti-graft effort that needs to be urgently addressed," says the Beijing Youth Daily.
English test
And finally, some papers are discussing the "credibility" of China's national English test after top universities in Hong Kong recently refused to recognise the system.
According to the Southern Metropolis Daily and the Beijing News, University of Hong Kong and Chinese University of Hong Kong have announced that they will not accept the scores of the mainland's College English Test (CET) for admissions.
Instead, they have asked applicants to submit scores of the International English Language Testing System (IELTS) and the Test of English as a Foreign Language (TOEFL).
Reflecting on the decision, an article in the Henan Business Daily criticises the mainland English language education for its emphasis on memorising grammar rules and vocabulary, but not on practicality.
"Some students have obtained high marks in the test, but they are not able to communicate fluently and are 'deaf' (when it comes to listening skills)…," it says.
BBC Monitoring reports and analyses news from TV, radio, web and print media around the world. For more reports from BBC Monitoring, click here. You can follow BBC Monitoring on Twitter and Facebook.