China media: Learn from Macau's 'success'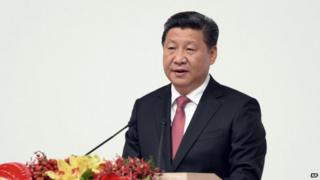 Papers in China hail the success of "one country, two systems" policy in Macau and urge Hong Kong to "learn" from its neighbour.
Chinese President Xi Jinping on Saturday urged Macau residents to respect the "one-China" policy. He was visiting the former Portuguese colony to mark the 15th anniversary of the territory's return to China.
The former colony reverted to Chinese sovereignty in 1999 after 400 years of Portuguese rule. Beijing promised to uphold Western-style freedoms for at least 50 years.
Much like Hong Kong, Macau is also governed under the "one country, two systems" principle, in which China grants it a large degree of autonomy.
A report in the overseas edition of the People's Daily highlights comments in Hong Kong's papers that the "one country, two systems" has brought "huge success to Macau".
Papers, including the pro-Beijing Wen Wei Po and Ta Kung Pao, urge Hong Kong's pro-democracy protesters to learn from Macau and focus on economic development of the territory.
Dismissing observations in Western media outlets that Macau is "a hotbed of dissent", an article in the Global Times says "radical and illicit acts like the Occupy Central [Hong Kong's pro-democracy] movement will not find a place in Macau".
"Macau was once considered Hong Kong's 'poor relative', but it has now surpassed Hong Kong in many sectors and has been attracting a growing number of Hongkongers to migrate to the territory," the commentary says.
It also urges Macau to learn from Hong Kong and stay away from pro-democracy movements because "social order is a prerequisite for achieving democracy".
Leng Tiexun, a deputy director of the One Country Two Systems Research Institute with Macau Polytechnic Institute, said Mr Xi's speech was "a reminder for Hong Kong to rethink its future development in the post-Occupy phase".
'Operation theatre selfies'
Meanwhile, a group of doctors have drawn criticism after they took selfies in an operation theatre in a hospital in Xi'an, Shaanxi Province in northwestern China, reports say.
The surgeons were seen smiling happily at the camera and using the patient, who was still lying on the bed, as a "background" for the shots, reports say.
The set of photos have gone viral on the internet, sparking outrage on social media platforms.
"No wonder there is so much tension between medical workers and patients. What were you doing during the surgery?" reads the caption of one such photo.
Some observers say that people have been bitter towards medical professionals because of such incidents and a sharp increase in treatment costs.
The hospital has apologised over the incident and said health authorities would punish the doctors, the Xi'an Evening News reports.
Isolating HIV patient
Meanwhile, the residents of a village in China's Sichuan province have petitioned health authorities to "isolate" an eight-year-old boy with HIV, state media report.
Authorities, however, have asked the local government to protect the boy's rights.
Kun Kun lives with his grandparents, who have been struggling to take care of him.
His story has gained widespread attention and the United Nations Program on HIV/AIDS has expressed concerns over his safety.
The Global Times says China's health officials have asked the local government to guarantee schooling and medical treatment for the boy.
Criticising the villagers, the China Daily says that the incident "should serve as a wake-up call that there is still much to be desired when it comes to HIV/AIDS awareness".
An article in the Beijing News, however, worries that the public limelight on the case may backfire.
The commentary, written by a reporter who visited the village, notes that the local government has been under pressure to keep the boy in the village.
It quotes an official as saying that the local government fears that it will be criticised if they send the boy away.
"It will be another joke if the local government, due to public concerns, turns down the help of professional agencies and continues to keep the boy in the conservative village," says the article.
'Fake condoms'
And finally, papers raise safety concerns after "fake condoms" sold online have started to appear in supermarkets.
According to the Beijing News, manufacturers package low-quality condoms as international brands and sell them online for as low as four yuan ($0.64; £0.41) per packet.
The report adds that some supermarkets in Beijing purchased the counterfeits online to sell them at a much higher price.
It adds that most people find it difficult to differentiate between fake and real products and end up buying "unsafe condoms".
BBC Monitoring reports and analyses news from TV, radio, web and print media around the world. You can follow BBC Monitoring on Twitter and Facebook.