China media cautiously optimistic over Japan ties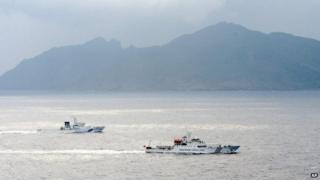 Papers are cautiously optimistic over better China-Japan ties after both countries held talks on maritime security.
The two countries held talks on Monday in Tokyo and agreed to launch a new mechanism aimed at reducing the risk of accidents in the East China Sea.
Ties between the two nations have been strained over rival territorial claims and disputes about Japan's World War II history.
At the heart of the dispute are islands in the East China Sea which are controlled by Japan, but also claimed by China.
The China Daily says the fact that defence and maritime officials from both sides met "means a lot". "Neither Beijing nor Tokyo wants to see things worsen further," states the daily.
"Mutual distrust runs so deep and broad between Beijing and Tokyo that an instant thaw in ties is unrealistic. But any worsening of the relationship may prove damaging to both. The two sides must engage in joint crisis control," it adds.
Taking a tougher stand, a commentary in the People's Daily overseas edition urges Japan to "show sincerity" to improve ties.
The article also blames Tokyo for "stirring up trouble" by insisting on its historical views and leaders' visits to the controversial Yasukuni Shrine, which commemorates Japan's war dead, including convicted war criminals from World War Two.
"Beijing hopes to strengthen communication and understanding with Tokyo to prevent accidents, but Japan always puts its own self-interest as the main goal," it says.
Military expert Zhang Junshe tells the Global Times' Chinese edition that Beijing welcomes Tokyo's willingness to discuss issues, but it will closely watch its "real actions".
Charlie Hebdo's new issue
Turning to international news, some papers and experts urge Western countries to "stop politicising religious issues" after Charlie Hebdo depicted the Prophet Muhammad on its latest cover.
Three million copies of the satirical French weekly are being printed - a week after Islamist gunmen murdered eight journalists at the magazine and four other people in Paris.
The cartoon shows the Prophet weeping while holding a sign saying "Je suis Charlie" ("I am Charlie"). It is believed earlier cartoons of the Prophet prompted the attack.
The Global Times describes the new caricature as "a show of defiance".
Echoing similar views, observers interviewed by the paper say they are worried that the new cover may "incite fresh anti-West sentiments in the Muslim world".
"Western countries should stop politicising religious issues because it nurtures cultural opposition and religious extremism," Wang Jinglie, a research fellow at the Middle East and Africa Research Network, says.
Zhao Lei, an international relations professor from the Party School of the Central Committee of the Communist Party of China, points out that the magazine's new edition "speaks to a deeply-rooted sense of Western superiority among European nations".
Internet identity
And finally, papers support the government's continued push for real-name registration on online platforms.
China's State Internet Information Office (SIIO) announced on Tuesday that it would step up efforts to force users of microblogs, smartphone chat apps and various sites to register with real names to ensure that nobody remains anonymous.
An article in the official Jiangxi news portal dismisses worries that the move will further restrict online freedom.
"This will not hurt freedom of expression, but will only curb the freedom of those who are spreading rumours and causing social disorder," it says.
A commentary in the Chongqing Morning News welcomes the move but suggests that net users must be protected, especially when they criticise the authorities.
"There must be measures to safeguard citizens' identities as well as their rights to criticise and expose wrongdoings (of officials)," it adds.
BBC Monitoring reports and analyses news from TV, radio, web and print media around the world. You can follow BBC Monitoring on Twitter and Facebook.