China media: Japan's IS hostage crisis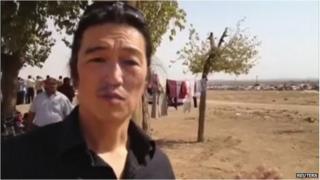 Papers are closely following Japan's efforts to free its citizen from Islamic State (IS) militants, while discussing whether China should invite Japanese PM Shinzo Abe to its planned military parade.
On Sunday, IS said it had killed one Japanese hostage, Haruna Yukawa, after demanding $200m (£130m).
The group has since released audio recordings purportedly of the second hostage, Kenji Goto.
Mr Goto, 47, is a well-known freelance journalist and documentary film-maker who went to Syria in October, reportedly to try to get Mr Yukawa - a private contractor - released.
The Xinhua News Agency highlights that the hostage crisis has been "caused by [Japan's] generous aid" to the Middle East and Prime Minister Shinzo Abe's ambition of expanding Japan's international role.
"Japan was seldom involved in the Middle East, but now it actively interferes in the region and pledges aid assistance to the countries to fight terrorism, so the IS is very unhappy," Tang Zhichao, an expert on Middle East affairs at the Chinese Academy of Social Sciences, tells the news agency.
Zhou Yongsheng, a professor at the China Foreign Affairs University, however, believes that the crisis will not stop Mr Abe from his goal of turning Japan into a "major military power".
Instead, the pundit argues, Mr Abe will use the hostage crisis as an excuse to expand Japan's military presence overseas to "maintain peace".
Meanwhile, a commentary in the Beijing Youth Daily notes that some social media users are "waiting to see Mr Abe get embarrassed" in the crisis.
"It is a consensus that most netizens do not feel good about Mr Abe, but we should understand that terrorism is our common enemy," the article reminds.
"We should not treat this as watching a performance and should avoid taking pleasure in others' misfortune," it adds.
Invitation to Abe
Elsewhere, experts and netizens are discussing whether China should invite Mr Abe to the military parade planned to mark the end of the Second World War.
An article on a People's Daily web platform recently revealed that China was planning to hold the parade to "show Beijing's determination to maintain the post-war world order" and to bolster its "deterrence force against Japan".
The article has sparked concerns in Japanese media outlets over China's military intentions.
However, several papers in China have played down such doubts, stressing that the parade is "not aimed at planting hatred".
But an article in the Chinese edition of the Global Times suggests inviting Mr Abe to the event.
"Invite him to the ceremony to let him see China's show of muscles… China must let Japan and the whole world know that the post-war world order should not be changed," says the article.
China and Japan are currently embroiled in a territorial dispute. Beijing also accuses Tokyo of glossing over its war actions.
According to an online poll conducted by the paper, 86% of those who responded supported the idea of inviting Mr Abe.
Several political observers also feel that China should invite Mr Abe, though they believe that he will turn down the offer.
Lian Degui, an analyst at the Shanghai Institutes for International Studies, tells the South China Morning Post that it is "appropriate" for China to invite Mr Abe to the parade.
War of words
And finally, papers are urging web retail giant Alibaba and one of China's internet regulators to work together after their public war of words.
The spat was prompted by the regulator's claim that Taobao, Alibaba's biggest e-commerce platform, was "failing" to tackle the sale of counterfeit goods on its platforms.
The company reacted by accusing the watchdog of being "biased" and "wrong", adding that it plans to file a formal complaint of its own.
A commentary in the China Daily feels Taobao is "rash" to claim that the regulator, who has the duty to supervise the market, has "crossed the line".
But it also takes notice of Alibaba's argument.
"The regulator should have thought carefully about making its survey results public," it says, adding that such "negative information could be a big blow to the e-commerce industry".
The opinion piece then urges both the internet giant and the regulator to work together to supervise China's online market.
BBC Monitoring reports and analyses news from TV, radio, web and print media around the world. You can follow BBC Monitoring on Twitter and Facebook.