China media: Qualcomm fine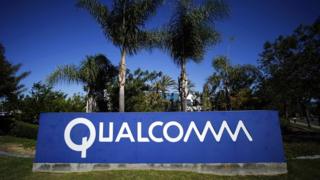 State media welcome the fining of US chipmaker Qualcomm following an anti-trust investigation by Chinese authorities, and dismiss accusations of economic nationalism.
Praising the record $975m (£640m) penalty, the China Daily says it was needed to "maintain the right environment for free and fair market competition".
It also warns against attempts "to misinterpret the fine as anything but a justifiable penalty for undermining fair competition".
A commentary in the overseas edition of the People's Daily says the fact that Qualcomm will not dispute the ruling shows the "strong negotiating power" afforded to China by its large domestic market.
"Other participants in the capital market and Qualcomm's top management have already acknowledged this power, and they know it is better to stop confronting it," it says, before adding that China will "not abuse this power".
Describing the fine as "quite reasonable", the Global Times dismisses claims in some international papers that the penalty reflects economic nationalism.
"As long as foreign companies comply with Chinese laws, multinationals enjoy more convenient access to the Chinese market than in other emerging economies," it argues, before urging them to co-operate with Beijing's efforts to enhance the rule of law in the economy.
Oil security
Newspapers also back calls to boost China's oil reserves following comments by President Xi Jinping on the need to "safeguard the country's energy security".
In remarks to senior officials on Tuesday, Mr Xi called for work to improve China's oil reserve systems to be speeded up.
He also urged close monitoring of the global energy market, the accelerated development of non-conventional forms of energy and reforms to gas, oil and energy pricing, according to the official news agency Xinhua.
The China Daily reports that China quickly ramped up crude oil imports for its strategic reserves last year, when world oil prices started to plunge.
Lin Boqiang, an energy expert with Xiamen University, tells the China News Service that the country needs to seize the opportunity of low prices to boost reserves, while working to increase its own influence over international oil prices.
Echoing similar views, Jiang Qingzhe from China University of Petroleum, observes that China has been too "passive" in dealing with the rise and fall of oil prices in the past.
A commentary in the Haiwai Net, however, notes that the oil sector in China is monopolised by state-owned companies, leading to corruption, and suggests the state "loosen some of its grip" on the market.
And finally, some newspapers call for a review of hospital performance assessment methods after a man went on trial near Beijing for duping doctors into publishing research in fake medical journals.
According to the Beijing Times, Li Peng Yang spotted a business opportunity after hearing complaints from doctors about the pressure to publish papers in medical journals in order to get hospital promotions.
Li, who has no qualifications other than his secondary school certificate, offered to provide a writing service for doctors, but after failing to get his work printed in established journals, simply started printing his own counterfeit publications.
The court heard that 884 doctors from across China paid a total of 2m yuan ($320,000; £210,000) to Li in the belief that their articles would appear in reputable professional journals.
An opinion piece in the Beijing Times says the case shows the perilous "double whammy" of an "overemphasis on doctors' academic work" combined with a "lack of supervision over their academic papers".
BBC Monitoring reports and analyses news from TV, radio, web and print media around the world. You can follow BBC Monitoring on Twitter and Facebook.