China cracks down on dating website fraud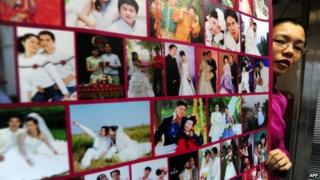 China's internet regulator says it will target fraud on dating websites and other online match-making sites, local media reports.
Fraud has become a "public nuisance to millions of users, especially young people", the Cyberspace Administration of China said in a statement.
It said it would clamp down on "fraud rings" and "prostitution", and enforce online real-name registration.
The upcoming Lunar New Year is a busy time for dating websites.
More and more young people are searching for love online as they move into cities for work and parents are no longer pairing them up with potential suitors, says the BBC's Martin Patience in Beijing.
It's also big business, he adds. One site, Jiayuan.com, said it had more than 100 million users in 2014, Xinhua news agency said.
The Chinese government routinely blocks thousands of foreign websites including news providers and social media sites such as Facebook and Twitter. It also conducts a wide-reaching censorship programme.
Recently it has stepped up controls, pressing again for real-name registration for all web users, restricting access to virtual private networks (VPNs) and cracking down on "internet rumours" - inaccurate reports on micro-blogging sites.