China media: Migrant workers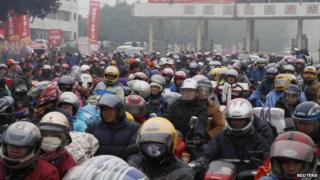 Papers support Chinese authorities' plans to give permanent residency rights to migrant workers.
The current residency law makes it mandatory for migrant workers to seek temporary permits before they are allowed to work in another city. Most host cities do not allow such workers any access to social benefits.
According to the public security reform plan released on Sunday, migrant workers will be allowed to hold permanent residency permits to help them have access to most benefits enjoyed by local residents, the official Xinhua News Agency reports. No timescale is given for the changes.
The state-run news agency quotes observers as saying that the temporary residence registry system has "led to instability and unsettlement and is no longer suitable for today's situation".
Peng Xizhe, public policy expert at Fudan University, tells the Global Times that the new system will "optimise the labour force by allowing workers to freely migrate across the country".
"The current system has provided convenience for the police in managing migrant workers. It has also been a source of income for the department. But it has not brought much benefit to the workers," Hu Xingdou, a social science professor at the Beijing Institute of Technology, adds.
The Beijing News notes that the proposed changes have received positive feedback from the public.
The editorial adds that the plan is significant because it aims to "bring equal rights for everyone". 
However, it suggests that the departments in charge of social security and healthcare benefits need to follow up with welfare reforms for migrant workers.
The Xinhua's Economic Information adds that the reform has been planned to minimise the gap between urban and rural areas.
Copenhagen
Some media outlets continue to criticise "freedom of speech" in Europe after a gunman in Denmark attacked a free-speech debate hosted by controversial cartoonist Lars Vilks.
The presumed attacker also opened fire outside a Copenhagen synagogue over the weekend. He was shot dead by the police on Sunday morning.
A film director and a synagogue guard were killed in the two attacks. Five police officers were also injured.
An opinion piece in the Global Times observes that Europe has "not learnt enough lessons" in dealing with terrorism even after the attack on French satirical magazine Charlie Hebdo in Paris last month.
"Years of marginalisation of Muslim communities and unrestrained speech against Islam have offered opportunities for terrorism to breed at home and infiltrate from abroad," says the article.
Pointing out that the Europeans' "impetus to protect free speech" is "bigger than the will to unite European Muslims to face the challenge together", the commentary urges Europe to "learn how to compromise and rein in their public discourse".
BBC Monitoring reports and analyses news from TV, radio, web and print media around the world. You can follow BBC Monitoring on Twitter and Facebook.