HK budget backs protest-hit businesses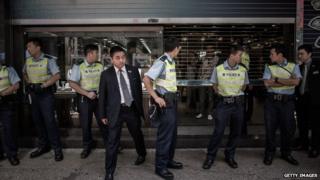 Hong Kong has pledged HK$290m ($37m; £24m) in its annual budget to support businesses disrupted by last year's pro-democracy protests.
Financial Secretary John Tsang also announced measures to boost the tourism industry and promote Hong Kong overseas.
He cautioned against "prolonged political bickering", saying it was damaging investors' confidence.
Hong Kong saw months of protest last year over political reforms.
The protests - demanding the freedom to elect the territory's leader in 2017 without interference from Beijing - drew tens of thousands when they began in September but had dissipated by the end of the year.
Mr Tsang blamed the unrest for a slower-than-forecast growth rate of 2.3% - the third consecutive year with a growth rate lower than the annual average of 3.9% over the past decade.
He said the protest movement had affected tourism, hotels, catering, retail and transport industries.
A failure to move forward, he said, would be "detrimental to public administration and the international image of Hong Kong as a stable, law-abiding and efficient city".
To help encourage tourism, the cost of getting a licence has been waived for six months for thousands of travel agencies, hotels and food outlets, while more than HK$100m has been committed to promoting Hong Kong globally.
Other measures included a boost in public spending and efforts to address the housing shortage by building 290,000 units over the coming decade.
The BBC's Martin Patience, in Beijing, says rebuilding confidence in Hong Kong, one of the world's great financial centres, is the government's top priority and that the budget will help soften the anger of some protest-hit businesses.
But there are still simmering tensions, he adds, as the protests ended with Chief Executive CY Leung refusing to make any concessions.