China media: Military parade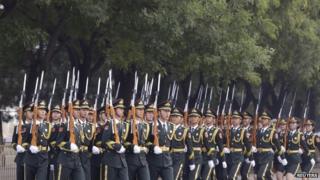 People are "proud and excited" after officials confirmed that a military parade will be held to mark the end of World War Two, papers say.
The foreign ministry confirmed that the parade will be held later this year to "mark [China's] victory over Japan".
External observers say the event is linked to Beijing's strained ties with Tokyo over territorial disputes.
But a foreign ministry spokesperson reiterated on Tuesday that the parade was planned to "defend world peace and not to flex muscles".
A commentary in the overseas edition of the People's Daily points out that there has been a revival of "militarism" in Japan, accusing right-wing forces of attempting to "beautify the intrusion history".
However, the article dismisses speculation that the parade is aimed at "frightening" China's neighbour.
"The political significance of holding the parade is much bigger than the military one. Naturally, China should show its mighty image," the article argues.
"It will also be an important achievement if the right-wing forces in Japan feel isolated as China and the world commemorate the anniversary," it says.
The China News Service believes that the parade will be on a smaller scale than those held once every 10 years on National Day.
National political adviser Yin Zhuo adds that it will offer an opportunity to China to showcase its key military equipment and honour military veterans.
Experts and members of the national advisory body interviewed by the Xinhua News Agency express "excitement" over the news, saying it would "inspire national rejuvenation".
"As a Chinese who has lived abroad, I feel that overseas Chinese will be respected only when our motherland is strong," Zhu Yilong, vice-president of the All-China Federation of Returned Overseas Chinese, tells the state-run media.
Fang Gongbin, a military expert, adds that the parade is also an opportunity to show the Chinese public how rapidly the country and its military have progressed.
Overseas assets
Meanwhile, papers call for more stringent supervision of state-owned enterprises (SOEs) after a senior official revealed that a large amount of overseas assets had never been audited.
Dong Dasheng, former deputy auditor-in-chief, on Monday said that the overseas assets of state-owned enterprises totalled more than 4 trillion yuan ($637bn; £415bn), the China Daily reports.
Shocked with the news, the daily calls for stricter measures to ensure these assets are "well managed and not encroached upon by corrupt elements".
An opinion piece in the National Business Daily says there are "loopholes" in the audit system for the overseas SOEs, as internal auditors are not independent of management.
Finally, some experts criticise US President Barack Obama for "double standards" after he said that China's first anti-terrorism law would affect foreign technology firms.
According to Xinhua, Mr Obama was concerned that the law would require technology firms to hand over encryption keys and the passcodes that protect data.
Under the draft law, companies are required to keep servers and user data within China, and to provide authorities with encryption keys, according to the Global Times.
Wang Guoxiang, an anti-terrorism expert at the Beijing Academy of Social Sciences, says the legislation is "necessary" because internet data "is a crucial state resource in the country's anti-terrorism research and counter measures".
Wu Xinbo, director of the Centre for American Studies at Fudan University, describes Mr Obama's remarks as "double standards in internet surveillance".
BBC Monitoring reports and analyses news from TV, radio, web and print media around the world. You can follow BBC Monitoring on Twitter and Facebook.