China media: Myanmar border tension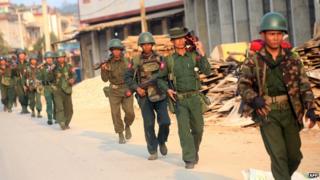 Papers urge the government to take "more action" to "deal with Myanmar" after five Chinese people were killed in a border incident.
Chinese authorities said a bomb fell from a Myanmar aircraft onto a field in Yunnan province on Friday, killing five people and wounding eight.
Myanmar (also known as Burma) has been fighting rebels in the Kokang region, bordering China.
A Myanmar official quoted by Reuters denied bombing China and said rebels may have caused the explosion. The country has also expressed "deep sorrow" over the death of Chinese nationals.
Chinese Premier Li Keqiang has warned Myanmar that his government would "firmly safeguard stability in border areas", state-run Xinhua News Agency reports.
Papers and experts have urged the government to take "stronger" and "active" measures to handle similar situations in the future.
"It is necessary for China to clarify to Myanmar that such border-crossing will not be tolerated and warn Myanmar that it should not take its chances," Xu Liping, a researcher with the Chinese Academy of Social Sciences, tells the Global Times.
Ruan Zongze, vice-president of the China Institute of International Studies, calls for "a clear and timely investigation into the bombing", but also urges China's authorities to have "better border control and defence mechanisms".
A commentary in the state-run Haiwai Net points out that China's border region will face more threats if ethnic tensions in Myanmar continue.
It urges the Chinese government "do more than just condemnation" and instead "actively participate in Myanmar's peace negotiations".
The commentary urges Beijing to establish a "peace fund" to help end the conflict.
Echoing similar views, an opinion piece in the Beijing News calls for "serious measures" to avoid similar incidents.
"China can defend its sovereignty and the safety of its people only by taking such measures," he says.
'Fruitful results'
Papers also assess the results of China's annual parliamentary session after it concluded on Sunday.
The People's Daily congratulates the party for "ending victoriously" with "pragmatic, efficient and fruitful results".
"All the representatives agree that the government's work report reflects the spirit of the party leadership and is in accordance with the Four Comprehensives strategy," says the Communist Party's flagship paper.
President Xi Jinping unveiled his strategic blueprint, distilled into slogans known as the "four comprehensives", last month. Among other things, Mr Xi's strategy calls for deeper economic reforms.
The Beijing Youth Daily is confident that the "Four Comprehensives" strategy will "clean up" the party, and corrupt officials will have "no place to hide".
Commenting on the economy, the China Daily praises the leaders for "doing a good job".
"As a developing country which still has more than two million people living under the poverty line, China has done a good job in maintaining the sound growth of its economy," says the daily.
BBC Monitoring reports and analyses news from TV, radio, web and print media around the world. You can follow BBC Monitoring on Twitter and Facebook.