Chinese TV anchor Bi Fujian off air after criticising Mao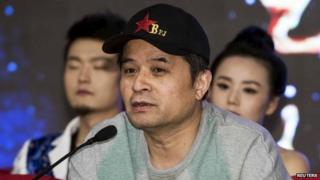 A star anchor on Chinese state TV has been taken off air after a video emerged of him criticising Mao Zedong, the founder of modern China.
Bi Fujian was filmed singing a parody song in which he said Chinese people had suffered under Mao's leadership.
CCTV said Mr Bi's comments had had a "serious social impact", but many in China have defended him.
Mao, who led China through the Cultural Revolution and devastating famine, is the subject of much historical debate.
Mr Bi hosts CCTV's annual New Year variety show, the most-watched television programme in the world.
In the video, filmed at a private banquet, he is seen singing a song from a Mao-era opera, Taking Tiger Mountain By Strategy.
But he changes the lyrics to say "we've suffered enough" and calling Chairman Mao "that old son of a bitch", prompting fellow guests to laugh.
Mr Bi has been taken off air for four days, state media report.
CCTV said in a statement it would "seriously handle the matter in line with related regulations and based on careful investigation".
The China Digital Times, which monitors Chinese media from abroad, reported that all websites had been ordered to take down the video and "stop hyping the story".
Chairman Mao ruled China between 1945 and 1976, building a personality cult around himself and generating mass social upheaval to recreate China.
He initiated the Great Leap Forward - an industrial revolution which resulted in massive famine killing tens of millions of people - and the Cultural Revolution, a crackdown on perceived bourgeois elements which led to mass imprisonments and executions, as well as the widespread destruction of China's cultural history.
'Quite vulgar'
While China officially acknowledges there were faults in Mao and the personality cult which surrounded him - generally he is seen as 70% good and 30% bad - he remains hugely respected, and insulting him and other leaders is a taboo.
His legacy is also growing in popularity among those who feel China has moved too far away from his communist ideals.
Commentators online and in the media were divided over whether Mr Bi should be disciplined. Some argued that he was being punished because he is a public figure and that it was a sign of the lack of free speech in China.
But writer Shen Renping in the Communist Party mouthpiece People's Daily said his adaptation of the song was "quite vulgar".
"If what he sang is really what he thinks, then it is understandable that many people are disappointed in him."
One Weibo user, as quoted by AFP news agency, said: "He must be punished, one must not insult the founding leader, that's the bottom line."