China netizens react to 'student' purchase of Vancouver mansion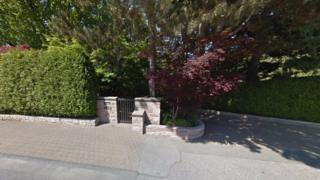 A Chinese student has reportedly bought a 31.1m Canadian dollars ($24m; £16.7m) mansion in Vancouver, sparking social media interest in China.
The property, on the coast in the Port Grey area, has five bedrooms and sits on 0.7 hectares (1.7 acres) of land, local media report.
Vancouver is seen as one of the most liveable cities, but the pressure on properties is intense.
In China, netizens saw the sale as a sign of China's growing buying power.
A Weibo user from Liaoning, wrote: "Is it now the fact that the richest people in Vancouver are all Chinese?... A country that is still struggling along the poverty line has managed to overcome a developed state. Such a stark contrast!"
Others pointed out that while the property may be one of the city's priciest, the cost per square metre is lower than many luxury homes in Shanghai or Beijing.
Land title documents shows 99% of the property and is "student", local reports said. A businesswoman is listed as owning the other 1%. It has not been possible to independently confirm the pair's stated occupations