Hong Kong student protesters held amid China leader's visit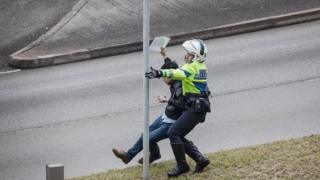 Five protesters from a student-led pro-democracy party in Hong Kong have been arrested for trying to intercept the motorcade of a top Chinese official.
The activists from Demosisto, including leader Joshua Wong, had attempted to reach the motorcade of China's number three leader, Zhang Dejiang.
Mr Zhang, who has been visiting Hong Kong, has warned that the territory will suffer if it becomes "chaotic".
Protesters have expressed fears that Hong Kong's freedoms are being eroded.
The student activists had run onto a motorway where Mr Zhang's motorcade was due to drive through, carrying signs calling for "self-determination".
Video and photos posted by the group showed them being chased and detained by traffic police.
Mr Zhang, who returned to mainland China on Thursday, was the first senior Chinese leader to visit Hong Kong since pro-democracy protests paralysed parts of the territory in 2014.
His visit was met with protests by activists who alleged that the mainland Chinese government was interfering in Hong Kong's affairs.
'Rot'
Some so-called "localist" groups say the city's identity is being diluted by social and political influence from mainland China, and have called for greater autonomy for Hong Kong.
Speaking on Thursday, Mr Zhang warned that talk "about self-determination and Hong Kong independence... will not be successful".
Hong Kong "would rot" if it abandoned the systems put in place after it was handed back to China, known as "One Country, Two Systems", he said.
Mr Zhang added: "If Hong Kong does well, everyone does well. But if Hong Kong is chaotic, everyone will have to foot the bill. Who'll pay the bill for you?"
Hong Kong, a former British colony, was handed back to China in 1997, with an agreement that the city would enjoy "a high degree of autonomy", with rights such as freedom of assembly and free speech protected.
Although China had promised direct elections for Hong Kong by 2017, it said in 2014 that the leader, or chief executive, put up for election would come from a list of two or three candidates chosen by an effectively pro-Beijing nominating committee, angering pro-democracy campaigners.