India PM Manmohan Singh set for key aviation talks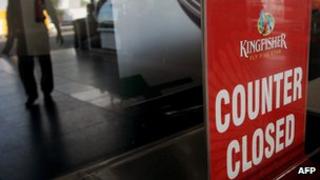 India's PM Manmohan Singh is holding key talks with aviation bosses on Saturday to address steep losses in the sector.
Civil Aviation Minister Vayalar Ravi said the air chiefs had requested the meeting and Mr Singh was "concerned" about the sector's performance.
Shares in the listed Kingfisher, Jet and SpiceJet all rose on Friday ahead of the talks.
Five of the six top carriers registered losses in the quarter to September.
The rise in shares on Friday indicated hope that Mr Singh might consider financial aid.
He has previously suggested that "we have to find ways and means to help them".
Investment possibilities
Mr Ravi was quoted by the Press Trust of India as saying: "The prime minister was good enough to give time for [the meeting] and he is meeting [the airline chiefs].
"The PM is concerned about it, it's the major institution of connectivity, supporting the development of the country."
Only budget carrier IndiGo did not announce a steep loss in the financial quarter ending in September.
One plan may be to increase Foreign Direct Investment (FDI) in the aviation sector, allowing overseas operators to increase control in domestic carriers and inject much-needed cash.
On Thursday, the government announced major plans to increase FDI in the retail sector.
India's second-biggest airline, Kingfisher, has been in particular trouble.
It has not posted a net profit since it started operations in May 2005 and is about $1.2bn in debt.
The carrier's problems have gone from bad to worse in recent months as it has found it difficult to raise fresh capital, resulting in reports of unpaid fuel bills and other dues.
In September the airline shut its budget carrier, Kingfisher Red, saying it no longer intended to compete in the low-cost market.