India MPs step up protests at retail reform move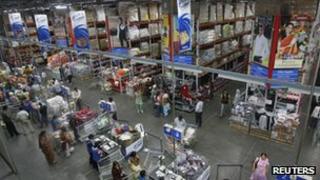 MPs in India have stepped up protests at the decision to open the retail market to global chains, sparking another adjournment of parliament.
Parliament was adjourned for the day amid renewed uproar from opposition and some ruling coalition MPs, who say the decision will hit local retailers.
Chief ministers of four states - Tamil Nadu, Bihar, Uttar Pradesh and West Bengal - have opposed the move.
Parliament has barely carried out any work since opening a week ago.
'United' opposition
The Congress-led coalition government says the retail reform move will create tens of millions of jobs.
It will allow for 51% foreign direct ownership (FDI) of multi-brand retail stores, allowing groups like Tesco and Wal-Mart to open stores. Such operators can currently only sell wholesale in India and not directly to customers.
The policy is an executive decision and does not need parliament's approval.
However, the government has faced serious opposition, including from a key government ally, the Trinamool Congress.
Over the weekend, chief ministers of Tamil Nadu, Bihar, Uttar Pradesh and West Bengal also protested against the government's move.
The chief minister of Tamil Nadu state, J Jayalalitha, who belongs to the opposition AIADMK, said the government had announced a major policy decision which affected "millions of people outside parliament without even consulting the state governments".
The chief minister of West Bengal, Mamata Banerjee, an ally of the government, said she opposed the move as it would lead to the closure of smaller retail shops.
"If these shops close down, what will the shop owners eat?" she asked.
Sharad Yadav, of the opposition Janata Dal (United) party, has said the entire opposition is united against the move.
"This decision of the government will render [millions] of small businesses and vendors unemployed and destroy the unique village economy of the country," he said.
Mr Yadav said Trade Minister Anand Sharma had not carried out a proper consultation.
"Anand Sharma has written to all that he has talked to the stakeholders before taking this decision. Who are these stakeholders? The government should have talked to the political parties."
The policy contains several restrictions, including that the supermarkets are to be located in only 53 Indian cities, with a population of more than one million each.
Media reports suggest that 28 of these cities are ruled by opposition parties.
The other riders include a minimum investment requirement of $100m (£65m) by a chain over five years, and a commitment to purchase 30% of their goods from small and medium-sized firms.
Barely any legislative work has been achieved since parliament began its winter session last Tuesday.
Anger at price rises, the retail reform, moves to split a key state into separate entities and even the banning of a film in Tamil Nadu have made work almost impossible and led to regular adjournments.