India: Assamese writer Indira Goswami dead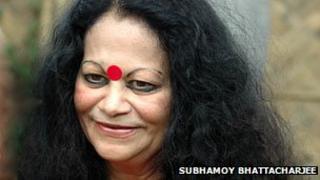 Well-known Indian writer and activist Indira Goswami has died in the north eastern state of Assam, aged 70.
Ms Goswami had been suffering from a lung infection and was ailing for a long time, reports said.
Ms Goswami, who wrote a number of novels and short stories, won the Jnanpith, one of India's most prestigious literary awards.
She was appointed as a mediator by a Assamese rebel group for peace talks with the federal government.
Ms Goswami died at a hospital in Guwahati city early on Tuesday, doctors said.
Among her well known novels are The Moth-Eaten Howdah of a Tusker, Pages Stained With Blood and The Man from Chinnamasta.
Ms Goswami also taught at the University of Delhi, where she wrote a number of short stories.
She also mediated between the United Liberation Front of Assam (Ulfa), the strongest separatist group in the state, and the federal government.
Ulfa has been fighting for a separate Assamese homeland for two decades.