Shahid Balwa granted bail in telecoms scandal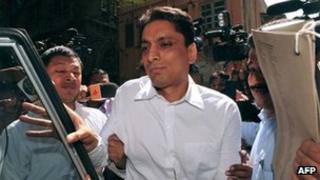 The first company executive arrested in connection with India's biggest corruption scandal, Shahid Balwa, has been granted bail by a court in Delhi.
Mr Balwa, who floated Swan Telecom, a firm allegedly favoured during the allocation of mobile phone licences, was arrested in February.
On Tuesday, the court granted bail to MP Kanimozhi and four others.
Auditors say mis-selling of telecoms licences cost the country about $40bn (£24.5bn).
Former telecoms minister A Raja is among 14 people who have been charged. They all deny any wrongdoing.
Last week, the Supreme Court freed five company executives on bail.
Mr Balwa floated Swan Telecom which was later renamed Etisalat DB and is about 45% owned by UAE-based Etisalat. Mr Balwa is vice-chairman of Etisalat DB.
On Monday, the Delhi high court granted bail to Ms Kanimozhi and four other people - Asif Balwa, Sharad Kumar, Karim Morani and Rajiv Agarwal.
Last Wednesday, Sanjay Chandra, Vinod Goenka, Gautam Doshi, Hari Nair and Surendra Pipara were bailed by the Supreme Court. All of them belong to firms associated with telecoms and were arrested in May.
Last month, the federal Central Bureau of Investigation (CBI) filed charges against the accused and earlier this month, the trial began in a special CBI court in Delhi.
It is expected to be long and complex. Some 150 witnesses are expected to appear.
If found guilty, the defendants could face a maximum sentence of life imprisonment.
The telecoms scandal has badly damaged the reputation of the government, which has been hit by a series of corruption cases.