India Maoists protest at Koteshwar 'Kishenji' Rao death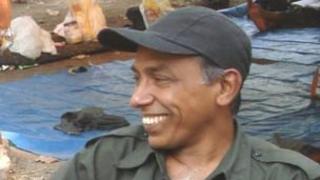 Maoists in India are observing the second day of a countrywide strike in protest at the killing of their leader, Koteshwar Rao, known as Kishenji.
Officials say the rebels attacked a security camp and blew up two mobile phone towers in the state of Bihar.
Railway tracks have also been blown up in Jharkhand, although the strike has had a limited impact in the rebel stronghold in West Bengal.
Maoists say Rao was killed by police in a "staged" encounter.
'Cold blood'
A senior police official of Bihar said the rebels had attacked a security forces camp in Gaya district, leading to an exchange of fire.
Another gunbattle took place when the Maoists tried to surround a police station in Palamu district in Jharkhand.
There were no casualties in either incident.
Correspondents say Rao's death in West Bengal last month was a major setback for the rebels.
In a pre-recorded statement sent to the BBC, a spokesperson for the Communist Party of India (Maoist), Abhay, said intelligence agencies and the security forces had arrested Rao and killed him in cold blood.
Police say Rao was killed after a gunbattle between rebels and paramilitary forces in the Burishol forest in the Jamboni area of West Bengal's restive West Midnapur district..