India MP Kanimozhi, accused in telecoms scandal, freed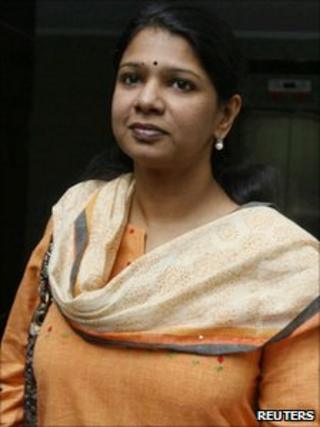 Indian MP Kanimozhi, arrested in May in connection with the country's biggest corruption scandal, has been released from Delhi's Tihar jail.
It follows a court decision on Monday to grant her bail.
She denies conspiracy and accepting bribes in the alleged mis-selling of telecoms licences, which auditors say cost the country about $40bn (£24.5bn).
Former telecoms minister A Raja is among 14 people charged in the case. They all deny any wrongdoing.
On Monday, the Delhi high court also granted bail to four other people - Asif Balwa, Sharad Kumar, Karim Morani and Rajiv Agarwal.
Last week, the Supreme Court bailed five company executives accused in the scandal.
Prosecutors say Ms Kanimozhi took a bribe of $47.6m (£29.3m) through Kalaignar TV - a channel run by the DMK party in the southern state of Tamil Nadu.
Last month, the federal Central Bureau of Investigation (CBI) charged her on a number of counts, including criminal conspiracy, forgery, accepting bribes and misuse of office.
The trial court had earlier refused her bail saying the "crime committed was a deliberate offence, an economic offence and very serious in nature".
Earlier this month, the trial began in a special CBI court in Delhi. It is expected to be long and complex. Some 150 witnesses are expected to appear.
If found guilty, the defendants could face a maximum sentence of life imprisonment.
The telecoms scandal - often referred to as the 2G spectrum case - has badly damaged the reputation of the government, which has been hit by a series of corruption scandals.