India PM Manmohan Singh battles retail reform crisis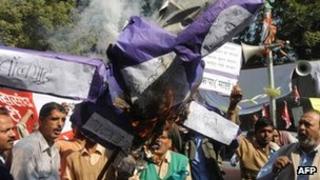 India's Congress party has held a key meeting of senior officials, including PM Manmohan Singh and leader Sonia Gandhi, to tackle the crisis over controversial retail reform plans.
Mr Singh also spoke to two key coalition allies opposed to the move to try to shore up support.
Opponents say the move to allow 51% foreign ownership of multi-brand stores will damage small retailers.
Parliament has become paralysed, with forced adjournments almost daily.
Mr Singh on Tuesday defended the decision to open up the retail market to global supermarket chains, saying it would be good for both "farmers and the common man".
'Running away'
Although the decision on retail reform is an executive one that requires no parliamentary approval, opponents of the move have been pushing for an "adjournment motion" in parliament, which would spark a debate and vote on the issue.
On Wednesday, opposition members again demanded the adjournment motion and refused to recognise the chair, sparking an abandonment of parliamentary business initially till noon and then for the whole day.
Parliament has barely achieved any legislative work since its winter session opened on 22 November.
Opposition politicians say they will not allow it to function until the government rescinds the retail decision.
Since 2010, only one session of parliament has seen any normality and no major reforms have been passed in a year.
Congress appears unwilling to permit the adjournment motion, given the opposition to retail reform among key allies the Trinamool Congress and DMK.
Finance Minister Pranab Mukherjee met key MPs on Wednesday to argue the government's case.
One Congress MP told Reuters: "He rejected the idea of an adjournment motion, but said the government is open to discuss in parliament [foreign direct investment (FDI)] in retail."
NDTV reported that Congress had won the support of the DMK in any parliamentary vote.
Sushma Swaraj, of the main opposition Bharatiya Janata Party, said: "Why is the government running away from a vote? The government does not have majority support in parliament on FDI."
In his first public statement on the controversial issue on Tuesday, Mr Singh said: "We have not taken this decision in any haste but after a lot of consideration. It is our firm conviction that the decision will benefit our country.
"We believe that it will bring modern technology to the country, improve rural infrastructure, reduce wastage of agricultural produce and enable our farmers to get better prices for their crops."
Mr Singh said his government policies were aimed at cutting damagingly high inflation rates.
He also said experience in other nations had shown that "both big and small retailers can easily co-exist in a big country like ours".
He said the government would not be forcing any states to follow the policy.
"State governments that are not convinced of its usefulness have the means to prevent foreign participation in retail businesses in their states," he said.
The government insists its retail reform will create tens of millions of jobs.
Allowing 51% foreign direct investment (FDI) in multi-brand retail stores will open up opportunities for groups such as Tesco and Wal-Mart to open stores in India.
Such operators can currently only sell wholesale in India and not directly to customers.