India suspends policewoman in courting couples campaign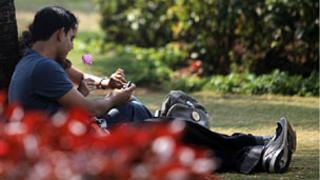 An Indian policewoman who led a controversial campaign against couples displaying affection in public places has been suspended for harassment.
Alka Pandey and her team raided parks and handed out instant punishment, forcing the boys to do sit-ups, in Sahibabad in Uttar Pradesh state.
Officials said their aim was to "save innocent girls being trapped by boys with evil motives".
Similar campaigns in Uttar Pradesh in the past have been denounced.
The new drive, "Operation Majnu", refers to a legendary medieval lover, although the term is now generally used to describe roadside Romeos.
Public displays of affection between men and women are still widely considered a social taboo in India.
Sub-inspector Pandey said she wanted to ensure the safety of young girls and went around randomly inspecting town parks looking for young couples sitting and chatting in remote corners.
On Tuesday, television channels showed footage of her approaching couples, grabbing the boys by the collar and forcing them to do sit-ups as punishment.
'Lots of complaints'
"Alka Pandey has been suspended on charges of harassing couples who were chatting at Ram Manohar Lohia Park in Sahibabad. An investigation into the matter will now follow," Indian Express newspaper quoted senior police officer Raghubir Lal as saying.
He said the drive had been intended to catch men who harassed girls and was not an action against courting couples.
Police said they launched the campaign after receiving a lot of complaints of young girls being harassed by boys.
Mr Lal says he receives many complaints of men hanging around cinema theatres, shopping malls and girls' schools, looking to harass them.
"The idea was to stop 'Eve-teasing' at all levels," he said.
Eve-teasing is an Indian term referring to sexual harassment.
He admitted some police officials could have made mistakes in tackling the matter but that the larger issue was ensuring safety for women.
There has been some support for the police campaign.
One young mother, Nandini Sharma, said it was difficult to stand in front of her daughter's school as young men would speed past on bikes to try to impress girls.
"But the situation has improved in the last three days," she said.