India telecoms trial bail blocked for RK Chandolia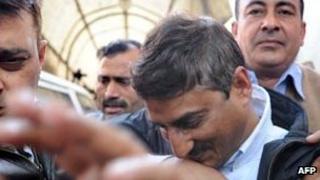 The Delhi High Court has blocked the award of bail to a key defendant in India's biggest corruption scandal.
The court stayed a decision on Thursday that awarded bail to RK Chandolia, who was private secretary to ex-telecoms minister A Raja, who is also on trial.
The Central Bureau of Investigation had filed a petition against the bail.
Fourteen people are on trial for the alleged mis-selling of telecoms licences which auditors say cost the country about $40bn (£24.5bn).
'No purpose'
Mr Chandolia had been granted bail on Thursday by the judge of the special CBI court in Delhi that is trying the defendants.
CBI Special Judge OP Saini had said there was no difference in his case to other defendants who have been bailed.
"I am of the humble opinion that further incarceration of the accused would not serve any purpose," he said.
Apart from Mr Chandolia, only Mr Raja and former Telecoms Secretary Siddhartha Behura remain in judicial custody.
All the defendants deny any wrongdoing.
Charges were filed by the CBI last month and the trial began earlier this month.
It is expected to be long and complex. Some 150 witnesses are expected to appear.
If found guilty, the defendants could face a maximum sentence of life imprisonment.
The telecoms scandal has badly damaged the reputation of the government, which has been hit by a series of corruption cases.