India 'suspends' plan to open up to global supermarkets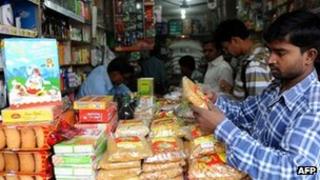 India's government is reported to have put on hold plans to open up the retail market to global supermarket chains.
Just days after approving long-awaited proposals to raise the limits on foreign investment, a government ally said he had been told the policy was suspended.
The decision to allow chains such as Walmart and Tesco into India has sparked fierce opposition.
Critics fear the move would destroy millions of jobs and businesses.
Mamata Banerjee, whose Trinamool Congress contributes 19 votes to the ruling Congress party-led coalition, said that Finance Minister Pranab Mukherjee had told her that the policy would be put on hold.
"(Mukherjee) has told me that the centre has decided to suspend implementation of the decision to allow FDI (foreign direct investment) in retail," Ms Banerjee, chief minister of West Bengal, told reporters in Calcutta.
"He has told me that the decision will not be implemented unless there is consensus on the issue," said the chief minister, who is an opponent of the policy.
Caps raised
Earlier this week, Food Minister KV Thomas said the cabinet has agreed to 51% foreign ownership of multi-brand retail stores, allowing groups like Wal-Mart and Tesco to open stores.
Currently, such operators can only sell wholesale in India but not directly to customers.
The cap on single-brand stores - such as Apple or Reebok - was to be raised from 51% to 100%, Mr Thomas also announced.
A decision on the issue has been pending for two years.
A senior leader of the main opposition Bharatiya Janata Party (BJP) said the government was misleading the country about the benefits of foreign supermarkets.
A 'truly borderless world'
"Wal-Mart may be fine for (the West) but Wal-Mart does not serve us," LK Advani, a former president of the BJP and leader of the opposition from 2004 to 2009, told a summit in Delhi.
"We should not be envious of Wal-Mart," he said.
The original announcement was welcomed by the Retailers Association of India. "Consumers will have many more choices," said the association's Gibson Vedamani. "It will truly be a borderless world in terms of products available."
Supporters of the move say it will increase competition and quality while reducing prices, which have been hit by close to double-digit inflation.
Opponents say the multi-nationals will squeeze out India's smaller and poorer traders and drive down prices paid to India's farmers.
Trade Minister Anand Sharma said before the decision that there was "a broad-based consensus" in the cabinet in favour of the proposal.