India lose hockey Champions Challenge to Belgium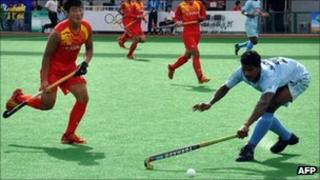 The Indian team has lost 3-4 to Belgium in the final of the Champions Challenge hockey tournament in Johannesburg.
The highly-fancied Indians squandered a two-goal advantage and conceded a last-minute goal to the opponents on Sunday to end up at the runners-up position.
India led 3-1, but a late rally by Belgium saw them equalise 3-3 and then deliver the winner in the last minute.
The Champions Challenge is held every two years for teams ranked 7th to 12th in the world.
India's goals came through penalty corner strikes from VR Raghunath (23rd minute), Sandeep Singh (39th) while Shivendra Singh (53rd minute) scored from a fine field goal, Press Trust of India reported.
The Belgians came back strongly through Jerome Dekeyser's two outstanding field goals in 45th and 57th minutes, while Gauthier Boccard penetrated the Indian defence with a fine deflection in the 55th minute, the agency added.