Tom Cruise promotes new Mission Impossible in India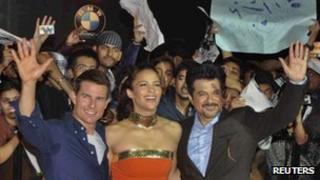 Hollywood star Tom Cruise has held a special screening of his latest film, Mission Impossible: Ghost Protocol, in the western Indian city of Mumbai.
Bollywood actor Anil Kapoor, who also stars in the film, joined Cruise and 1,500 Indian fans in the suburb of Wadala on Sunday.
The Hollywood star was on a two-day visit to India to promote the film ahead of its global release.
After arriving in India, the star first went to see the Taj Mahal in Agra.
"I wanted to come to India my whole life, so I am very excited," he told the Press Trust of India news agency.
As he walked down the red carpet for the screening in Mumbai, Cruise chatted with fans and signed autographs.
"I love watching Hindi movies. There are many Hindi movies that come out... but I do watch a few of them. [If offered a Bollywood film] I would never say no," he said.
He was accompanied on this promotional tour by his co-star in the film, Paula Patton.
The screening was attended by several Bollywood stars, including Sonam Kapoor, Abhishek Bachchan, Amir Khan and Farhan Akhtar.
On Saturday Cruise visited the famous monument to love, the Taj Mahal.
The fourth instalment of the Mission Impossible films is directed by Brad Bird and will be released in India on 16 December.