Guard killed as Kashmir minister survives attack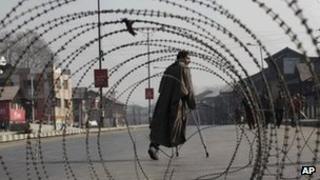 Militants have opened fire on the entourage of a minister in Srinagar, Indian-administered Kashmir, killing one of his security guards, police say.
Law and Parliamentary Affairs Minister Ali Mohammad Sagar was unharmed. He is a senior leader of the state's governing National Conference party.
Two other security guards were wounded in the attack on Sunday night.
Correspondents say it is the first attack in recent years targeting a political figure.
On Monday, the Pakistan-based militant group Jamiatul Mujahideen said it had carried out the attack on Mr Sagar.
A spokesman for the group said it was in retaliation for the National Conference party's plan to reopen alcohol shops and cinema halls in the Kashmir Valley, the Press Trust of India reported.
Family visit
Jammu and Kashmir Chief Minister Omar Abdullah has ordered an investigation into the attack.
The attack took place as Mr Sagar visited his ancestral house in the Nawakadal area of Srinagar to attend a family function, police said.
The Kashmir Valley has been in the grip of a violent insurgency against Indian rule for two decades, although violence has declined in recent years.
Kashmir is divided into Pakistani- and Indian-administered areas, with both nations claiming the region in its entirety.