India newlyweds named as Las Vegas helicopter victims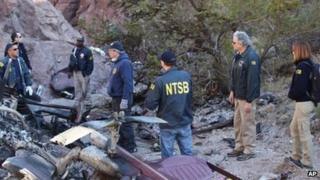 A newlywed Indian couple have been named as among the five people who died in a tourist helicopter crash in Las Vegas last week.
Lovish Bhanot, 28, and 26-year-old Anupama Bhola were named by Clark County Coroner Michael Murphy, Associated Press reported.
The aircraft was touring the Las Vegas Strip and Hoover Dam at sunset with four tourists and a pilot aboard when it crashed on a hillside.
It is not known what caused the crash.
Anniversary
Mr Murphy said he had spoken to relatives of the Indian newlyweds, who died of multiple injuries and burns.
The couple were married in India in early November, he said.
Delwin and Tamara Chapman, from Utica in the US state of Kansas, who were celebrating their 25th wedding anniversary, also died.
The crash happened last Wednesday evening about four miles (6.4km) west of Lake Mead.
The group were on a 30-minute tour - which cost of $210 (£134) per person. Weather conditions were favourable with clear skies and light wind.
The helicopter, which took off from McCarran International Airport, was an AS-350, a model that can carry up to six passengers and is often used for such tours.
The sightseeing trip was conducted by Sundance Helicopters, which has a fleet of 23 helicopters and flies more than 160,000 passengers a year, its website says.