India holds all-party meeting on anti-corruption bill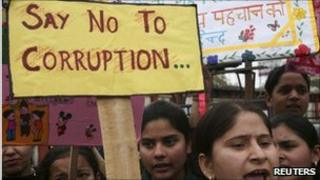 India's government is holding a key all-party meeting to build consensus on a new anti-corruption bill.
The Lokpal bill envisages setting up an independent ombudsman, who would have the power to investigate and prosecute politicians and civil servants.
Activists and opposition parties say the bill should include the prime minister and lower-level bureaucracy.
Activist Anna Hazare has threatened to go on hunger strike if the bill is not passed during this parliament session.
His 12-day anti-corruption fast four months ago became the focus of a national campaign and put pressure on the government to act on the issue.
Although the government has now drafted a new anti-corruption bill, some opposition parties and activists say it is too weak.
'Productive'
Leaders of several key parties joined Prime Minister Manmohan Singh at his residence in Delhi to discuss the Lokpal bill.
Mr Singh started the meeting by saying the "momentous legislation" should be "passed on the basis of consensus among all parties as far as possible and that this should not be subjected to party politics in any way".
He added: "The government is committed to implement in letter and spirit a good and effective Lokpal bill that would have a quick and positive impact in further curbing the cancer of corruption without any adverse effects on the efficiency of our system of public administration."
On Tuesday, the ruling Congress-led coalition held a meeting and arrived at a "broad consensus" over the new bill, Home Minister P Chidambaram had said.
The government appears now to have conceded that the prime minister should come under the ambit of the ombudsman with some conditions, relating to matters of external affairs and national security.
Media reports also say that it is likely to agree to demands to bring junior bureaucrats under the ombudsman.
The judiciary and conduct of MPs in parliament have been kept out of the Lokpal's ambit.
One key issue outstanding is the relationship between the ombudsman and the Central Bureau of Investigation, which will take on cases assigned to it.
Separately, the cabinet cleared drafts of three major anti-corruption bills on Tuesday.
The three bills would offer protection to whistleblowers, make judges more accountable and make it mandatory for government officers to deliver services to citizens within a defined period of time.
India has recently been hit by a string of high-profile corruption scandals, badly damaging the government's reputation.
Among them are an alleged multi-billion dollar telecoms scam, claims of financial malpractice in connection with the Delhi 2010 Commonwealth Games and allegations that houses intended for war widows ended up in the hands of civil servants.
A recent survey said corruption in India had cost billions of dollars and threatened to derail growth.