Tourists die in Sikkim car crash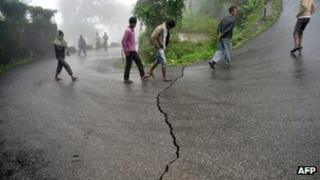 At least seven tourists were killed in a car accident in the north-eastern Indian state of Sikkim late on Tuesday night, police said.
The authorities said the victims were travelling from Mangan towards the state capital, Gangtok, when their vehicle fell into a deep gorge.
Four others were injured. The tourists were from West Bengal state.
Mangan was the epicentre of the recent devastating earthquake in the Himalayan region.
"They crossed the checkpost at Mangan at around 20:00 [02:30 GMT] on Tuesday night and were travelling towards Gangtok. There was heavy fog in the area and their car fell from the road and plunged into the deep gorge," north Sikkim District Collector TN Kazi told the BBC.
The BBC's Amitabha Bhattasali in Calcutta says that during the quake, many of the roads in the region were badly damaged and local residents say that with winter fog, it has become very dangerous to drive at night.
Normally tourist vehicles do not operate at night, our correspondent says.