Name 782 India tax evaders, opposition's LK Advani says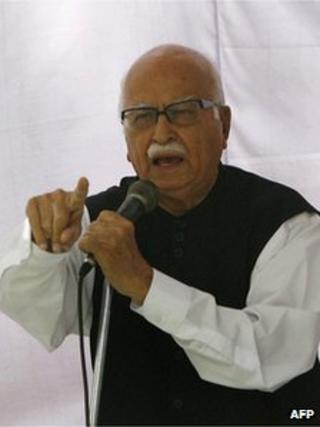 India's main opposition leader LK Advani has demanded the government list the names of people who have stashed money illegally in foreign banks.
Leading a debate in parliament on the issue of "black money", Mr Advani said 782 tax evaders had stashed hundreds of billions of dollars abroad.
He accused the government of trying to protect the tax evaders.
Manish Tewari of the governing Congress party said Mr Advani was unfair to blame the current government.
The US-based group Global Financial Integrity estimates that India has lost more than $465bn in illegal capital flight since the country gained independence in 1947.
Almost three-quarters of the illegal money that comprises India's black market economy ends up outside the country, the group said in a report last year.
India's underground economy has been estimated to account for 50% of gross domestic product (GDP).
The government says it is taking measures to bring back the illegal money but that there are difficulties in revealing information because of confidentiality treaties between countries.
'Convince the nation'
Wednesday's listed business in parliament had been suspended for the debate on black money.
"I want your assurance and an oath after the debate that you will come out with the names of tax evaders," Mr Advani said in the Lok Sabha (Lower House), addressing Finance Minister Pranab Mukherjee.
"Convince the house, convince the nation that you will play all your cards to bring back the black money," he said, adding that it could be used for "the development of over 600,000 villages".
The 83-year-old leader of the Bharatiya Janata Party (BJP) criticised the government for lacking the political will to deal with the issue.
Mr Advani recently undertook a 38-day journey across the country as part of a campaign to protest against corruption and black money.
India's Congress party-led government has been on the back foot on the issue of black money and corruption in recent months.