India central bank sells dollars to boost ailing rupee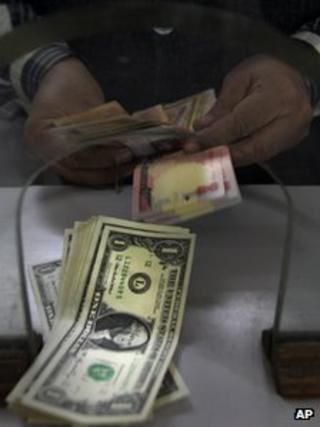 India's central bank has intervened to shore up the ailing rupee by selling dollars, bringing the Indian currency back from a record low.
The rupee slumped to 54.30 and was heading towards 55 before intervention helped it recover to 53.65.
The rupee has been on a record slide amid global fiscal fears.
Finance Minister Pranab Mukherjee admitted on Thursday that fiscal tools to deal with inflation and growth slowdown were "increasingly limited".
'Innovative remedies'
Hari Chandramgathan, a forex dealer with the Federal Bank in Mumbai, told Reuters that banks sold dollars around the 54.10 mark, "following which the market momentum took care of the rest for the rupee".
The Reserve Bank of India had been reluctant to intervene, and the move took traders by surprise.
The bank may also consider changing course on interest rates at its policy review on Friday if the rupee's fall is not fully checked.
J Moses Harding, head of the asset-liabilities committee at IndusInd Bank, told Reuters news agency: "We cannot rule out one more hike if the rupee extends its freefall beyond 56."
Mr Mukherjee said growth slowdown and high inflation had become serious challenges.
"The options for fiscal steps as well as monetary measures are increasingly becoming limited. However, there is potential for policymaking in other areas," he said.
"Innovative remedies would be required to address these challenges."
The rupee's fall was mirrored in the benchmark Sensex index.
It followed losses on Wednesday with another 44.67-point slump to 15,836.47.
The index is down 23% on the year, making it the world's worst performing market.
Also on Thursday, Saumitra Chaudhuri, a member of the PM's Economic Advisory Council, told Reuters that unfavourable market conditions could mean a target of $7.38bn in share sales in state-run companies by the end of March might not be met.