India's last cricket frontier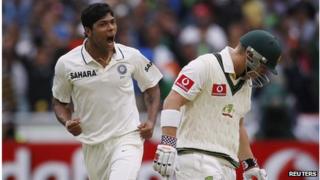 India are beginning a grinding four-Test cricket series against Australia in Melbourne. Sports writer Suresh Menon here covers the prospects for the Indian team, which has never won a Test series in Australia.
Not since 1977-78, when a full Indian team was expected to thrash an Australian outfit weakened by the Kerry Packer defections, has there been so much hope in the Indian camp as there is now.
Back then India lost the first two Tests narrowly and won the next two with thumping margins before losing the decider.
"We should have won 5-0," said ace spinner Bhagwat Chandrasekhar, who claimed 28 wickets, 12 in the Melbourne Test with figures of six for 52 in each innings.
It was a rag-tag Australian outfit, led by Bobby Simpson, who had been recalled a decade after retiring from the game.
History clearly is not in India's favour.
Inspired or deflated?
India might have the superior batting, but this series hinges on which team is more capable of taking 20 wickets to win a Test.
Zaheer Khan apart - and no-one knows what his level of fitness is or whether he will even last the series - this is the most inexperienced bowling attack India has fielded in at least six decades.
If that spurs the likes of Ravichander Ashwin or Umesh Yadav, talented bowlers but in alien conditions, it will be a series to savour.
Adding to India's confidence is Australia's recent loss to New Zealand in the Hobart Test, which revealed their own lack of experience and extended the career of Ricky Ponting.
Australia's bowling attack is also certainly weakened, with new star Pat Cummins unfit.
The question is: will the loss in Hobart make Australia a more dangerous side or will it drag the team further down the corridor of uncertainty they have been inhabiting in recent weeks and months?
Sport is strange that way.
A loss can either inspire or deflate a team. Champion teams tend to be motivated by defeat, but Australia haven't been champions for some time now, and it will be interesting to see how they react.
A week before this Boxing Day Test, Ponting turned 37. Both Sachin Tendulkar and Rahul Dravid are a couple of years older, but the Indians continue to be the pillars of the batting.
The last time India travelled, they were knocked over by England in every match; India struggled once Zaheer Khan pulled out with injury in the first Test, and discovered that nothing succeeds like failure.
Lambs abroad
Thanks to the recent victories against England and the West Indies at home (the former admittedly in a one-day series), the smile is back on the face of the Indian tiger.
But tigers at home, lambs abroad - the story of Indian cricket for many years, has come back to haunt them.
Nevertheless, the leading players know this is their last chance to be part of a series win in Australia.
Even when the team was anointed No 1 in the world, there was a nagging incompleteness: India had never won a series in Australia.
For the past decade and a half this has been one of the leading India teams of all time.
There was the series win in Pakistan, victories in England and the West Indies, and the World Cup.
A few things have to fall into place, though, to cross the Australia frontier.
India haven't fully got over their first-Test blues on tour; they tend to lose the inaugural encounter and then find it impossible to get back into the series.
They should have won the last two series in Australia, but managed only a draw under Sourav Ganguly and despite winning a Test under Anil Kumble, lost the series.
Much will also depend on how the rival skippers, Mahendra Singh Dhoni and Michael Clarke, handle their resources.
Clarke has the story of Bobby Simpson to inspire him; Dhoni has the chance to correct a historical anomaly when the better team lost some three and a half decades ago.
Suresh Menon's latest book, Bishan, is a biography of the Indian spin bowling legend Bishan Singh Bedi