Six jailed for life over Bangalore institute attack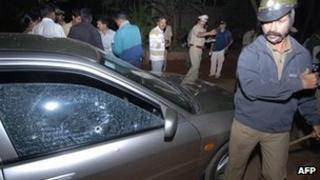 A court in the southern Indian city of Bangalore has sentenced six Muslims to life in connection with a gun attack at a top science institute in 2005.
A professor was killed and four other people injured at the Indian Institute of Science when a gunman opened fire at a meeting.
The gunman was never arrested. Police say he fled the country.
The six men were arrested as accomplices. They were found guilty of "waging war against India".
Police said they believed the gunman was linked to the Pakistan-based militant group Lashkar-e-Taiba.
On Monday, a fast-track court in Bangalore sentenced Mohammed Raza-ul-Rehman, Afzal Pasha, Mehboob Ibrahim, Miruddin Khan, Nizamuddin and Munna to life in jail.
They denied the charges, saying they had been framed by police.
The police said the men had no direct role in the attack at the institute but were found to be part of a group involved in "terrorist activity".
Dharam Singh, then chief minister of Karnataka state, described the attack at the time as a plan to create terror in India's technology hub, home to more than 1,500 software companies.
The attack was the first militant strike in Bangalore.
A series of low intensity explosions hit the city in 2008, killing one woman and injuring several other people.