Move to censure India Home Minister P Chidambaram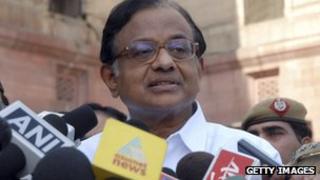 India's main opposition party has begun moves in parliament to censure Home Minister P Chidambaram for allegedly using his position to help a hotelier.
He is accused of helping a hotelier get cases of forgery against him withdrawn - a charge Mr Chidambaram denies.
The Bharatiya Janata Party (BJP) moved a "privilege motion" against the minister for making a statment outside parliament on the hotelier controversy.
The party says he should have made the statement to fellow MPs.
"Mr Chidamabaram has talked to the media outside when the parliament session is on. Instead of making a statement inside parliament after giving a notice, he decided to give a statement to the media outside. This amounts to disrespect of parliament. We have moved a notice of privilege against him," BJP leader SS Ahluwalia said.
The hotelier is described as a client of Mr Chidambaram, who is also a lawyer.