India parliament extended for anti-corruption bill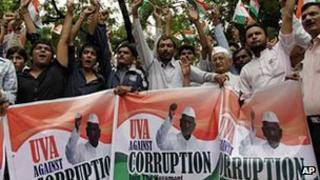 The ongoing session of the Indian parliament has been extended by three days to give it time to take up a controversial anti-corruption bill.
The cabinet is due to approve the Lokpal bill which envisages setting up an independent ombudsman who would have the power to prosecute politicians and civil servants this week.
Final decisions still need to be made on who comes within the bill's ambit.
Activist Anna Hazare has threatened protests if the bill is not passed.
Mr Hazare's 12-day anti-corruption fast in August became the focus of a national campaign and put pressure on the government to act on the issue.
The winter session of parliament was due to close on Thursday. But now it will also meet for three days between 27 and 29 December.
Media reports say the Lokpal bill will be introduced in parliament on 27 December. The house will also debate two bills related to protection of whistle blowers and making judges more accountable.
"The session is being extended to allow for a proper discussion as the opposition is not agreeable to passing these bills in a hurry without studying them," news channel NDTV quoted Parliamentary Affairs Minister Pawan Kumar Bansal as saying.
'Worthless'
Reports said the government ministers were putting the finishing touches to the Lokpal bill on Tuesday.
Once introduced in parliament, the bill will be discussed in both houses. Mr Hazare has so far appeared unimpressed with the government bill, calling it "worthless and good for nothing", and vowed to start a new hunger strike from 27 December.
There are differences among political parties over who should come under the ambit of the proposed anti-corruption ombudsman, particularly over lower-level bureaucracy.
The government appears now to have conceded that the prime minister should come within the ambit with some conditions, relating to matters of external affairs and national security.
The judiciary and conduct of MPs in parliament will not be included.
The main opposition Bharatiya Janata Party (BJP) and some other parties have also demanded that the investigative wing of the federal Central Bureau of Investigation (CBI) be included.
The CBI will take on cases assigned to it by the ombudsman.
India has recently been hit by a string of high-profile corruption scandals, badly damaging the government's reputation.
Among them are an alleged multi-billion dollar telecoms scam, claims of financial malpractice in connection with the Delhi 2010 Commonwealth Games and allegations that houses intended for war widows ended up in the hands of civil servants.
A recent survey said corruption in India had cost billions of dollars and threatened to derail growth.