India places anti-corruption bill in parliament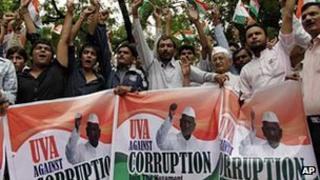 India's government has tabled a new anti-corruption bill in parliament.
The Lokpal bill envisages setting up an independent ombudsman with the power to prosecute politicians and civil servants. It will be debated in parliament next week.
However, campaigner Anna Hazare is not satisfied with the bill and says he will fast again in protest next week.
A string of major corruption scandals have hit the government's reputation.
Mr Hazare's 12-day anti-corruption fast in August became the focus of a national campaign and put pressure on the government to act on the issue.
Correspondents say the stage is set for a fresh confrontation between the government and Mr Hazare and the opposition over the contents of the new bill.
The current session of parliament has been extended by three days to allow time for the bill.
Amid reports that the government would have a tough time pushing through the new bill in the face of opposition from Mr Hazare and many political parties, ruling Congress party leader Sonia Gandhi has vowed to ensure MPs pass the bill.
Correspondents say some of the small regional opposition parties could block passage of the bill in parliament.
These parties say that the proposed law would give "draconian powers" to the police.
"Everybody's throats will be cut by the power that you are giving to the ombudsman," Laloo Prasad Yadav of the regional Rashtriya Janata Dal said.
Media reports say that two more key bills are likely to be introduced in parliament on Thursday - one to give constitutional status to the ombudsman and the other to protect whistle blowers.
Media reports say the Lokpal bill, which was approved by the cabinet on Tuesday evening, proposes keeping India's top investigation agency, CBI, out of the purview of the ombudsman.
In other words, the nine-member Lokpal committee - which will comprise the ombudsman - will not have its own investigative agency, a major demand of anti-corruption activists like Mr Hazare and many opposition parties, reports say.
Instead, the government-controlled CBI will take on cases assigned to it by the ombudsman, and these investigations will be carried out within 180 days.
The government has also kept outside the ambit of the ombudsman a "citizen's charter" for the timely investigation of public grievances against the government, another demand of Mr Hazare.
Instead, it is expected to table a separate citizen's charter bill in parliament which makes it mandatory for every government ministry and department to act within 30 days on public complaints about services.