US says Nehru Place is notorious pirated goods market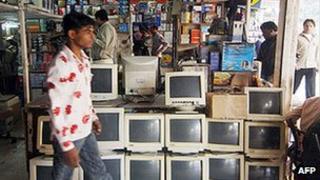 The US has put a top market in the Indian capital Delhi on a list of "notorious markets" for counterfeit and pirated goods.
The US Trade Representative (USTR) accused Nehru Place as one of the biggest hubs of counterfeit products.
The bustling market is well known for selling pirated software and counterfeit hardware.
However, a spokesman for Nehru Place market said the sale of pirated products was on the decline.
Swaran Singh told The Indian Express newspaper that a minority of shops were bringing disrepute to the market by selling pirated products.
"Out of the 10,000-odd shops in the Nehru Place area, about 3,000 stores sell computer hardware and software. "Most of the goods are imported and sold with a warranty," he said.
The nearly three-decade-old market is one of the largest in the capital, selling electronic goods, computer hardware and software.
Authorities have raided the market in the past to check sale of pirated and counterfeit products, but many shops continue to sell such products openly.
The USTR list mentions 15 markets, websites, blogs and online forums that are "reportedly engaged in piracy and counterfeiting".
The other South Asian markets mentioned in the list are Pakistan's Urdu Bazaar markets in Karachi and Lahore.
Critics have long accused India and China of not doing enough to protect intellectual property rights.
The USTR report says "several markets took action to address the widespread availability of pirated or counterfeit goods" after it released a similar list in February.