Boat in Tamil Nadu, India capsizes - 22 feared dead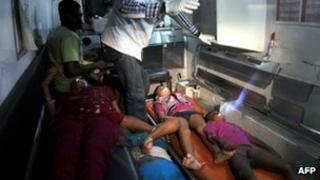 Twenty-two members of a single family are feared drowned after a boat capsized in a lake in the southern Indian state of Tamil Nadu, police say.
The boat, carrying 25 people, sank in Pulicat lake near the state's coast. Only three boys were able to be rescued after the incident.
The passengers were said to be picnickers who had hired the boat for a ride.
Officials said the boat was overcrowded and not equipped with life vests.
Divers and rescue workers continued their search through the night, but have failed to recover any more bodies.
Boats in India are often overloaded, which leads to frequent accidents.
At least 36 people died after an overloaded boat sank in the Ganges river in India's Bihar state in October last year.
In 2009, a tourist boat carrying 76 people capsized in a lake in Kerala, killing at least 37 people.