India alcohol poisoning: 'Toxic drink makers' arrested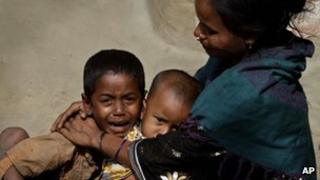 Indian police have have arrested four people suspected of manufacturing toxic alcoholic drinks that killed at least 169 people in West Bengal.
Those arrested include the wife of a man who ran the illegal alcohol trade in the area. Police are still searching for her husband.
Residents of 12 villages in the South 24 Parganas district were poisoned earlier this month.
Police had earlier arrested 18 people for selling the illicit liquor.
The police said the latest arrests are of people directly related to the production of the illegal liquor.
Villagers drank the alcohol and despite falling ill many stayed at home, saying they feared police harassment if they went to hospital.
Toxic alcohol deaths are a regular occurrence in India.
Earlier this month, the state of Gujarat brought in a new law making the illegal manufacture and sale of toxic alcohol there punishable by death.
The illegal alcohol - commonly called desi daroo in India - costs very little and the majority of the consumers are poor daily-wage workers.