Enduring new-age appeal of Goa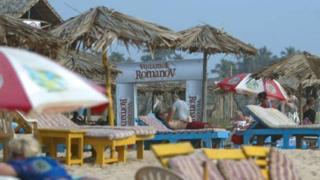 A key 1970s hippy-trail destination, Goa appears to be losing none of its attraction to new-age travellers, the BBC's Zubair Ahmed finds.
The music in the funky Club Fresh shack blasts out loudly into the tranquil waters of the Arabian Sea. The darkness is intermittently disrupted by those lighting up. It's 10 at night and the fun has just begun.
The lone man on the dance floor is the owner. His moves are out of synch with the music but no-one cares.
This is a place to lose inhibitions, break society's norms, bend the rules, not be judged.
The spacious club extends to the beach as if it's a freedom corridor.
Couples can be seen smoking, making out or just chatting on the sun beds under the white canopies.
There are dozens of such shacks in Anjuna, Baga and Calangute. They are out of bounds for Indians but favourite hangouts of Goa's expatriate crowd.
Media are advised to keep a low profile and those attending the late-night parties avoid revealing their full names.
One of the club's bartenders, Taylor, who is from San Francisco, describes why she loves Goa: "It's great here. It's parties, it's people and it's funky freaky fashion… I love it here."
The first wave of hippies has long gone from Goa. They have been replaced by a new wave of travellers, who come on chartered planes from Russia, Britain, Israel and Germany.
The widely-travelled and well-heeled owner of Club Fresh, Sunil Chawla, sums up the spirit well: "I love my life. I would say, 'live a good life not a long life'."
'Cultural experiment'
The director of the Goa tourism department says 900 chartered planes brought 400,000 Westerners here last year. Its affordability keeps it an in-demand destination.
Roy Patrav, 60, returned to Goa after spending 30 years as an IT high flier in the Silicon Valley and other parts of the US.
"It took me time to decide to come here, but finally I came to discover who I am," he says.
Mr Patrav has been here for five years and the self-discovery continues. He says he is enjoying his single status, evening walks, the natural beauty of Goa and above all the late-night parties in the best expat clubs.
So does Faiz. Born to a Mumbai Muslim father and Jewish mother and now 42, he spent many years in the West and earned a PhD before settling in Goa.
He explains why people come to Goa: "Azadi (freedom). Freedom from family problems, freedom from societal problems and freedom from miserable life."
Faiz believes the hippies of the 1970s were better behaved than today's Western crowd. "Unfortunately today a lot of it has been, for want of a better term, bastardised, where everything has been turned into drugs and debauchery.
"It's wannabe, nostalgia hippies. People are here just to party now. The music is impersonal. The hippies never went to trance parties; they didn't know what the hell it was."
Faiz's friend, Yuri, came from Moscow 10 years ago.
He says: "I love Goa. I fell in love with its natural beauty. Moscow is a concrete jungle. Goa is nature's jungle. I love it here and I have no plans to pack my bags and leave."
One Israeli man, who identified himself as Uts, came to India in 1994. His last destination then was Goa and he became Goan.
Uts has his own take on why Westerners come to Goa: "In big cities people live in offices. They live in cages. They don't have freedom like we do. We like to be under the moon and the stars, to sing, to dance and feel free."
It seems there are two sides to Goa, one that is popular with Indian tourists and the other to which they have no access.
Faiz says this Goa is "a great cultural experiment".
"They come from all over the world, they all look different, behave differently. But here they become one. They come for fun and they get it in abundance."