India activist Anna Hazare recovering in hospital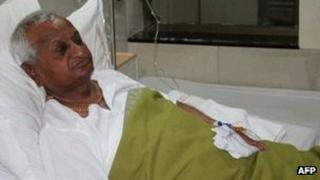 India's anti-corruption crusader Anna Hazare is recovering from bronchitis in hospital in the western city of Pune, with doctors advising him not to fast for a month.
Mr Hazare was admitted to hospital on Saturday night. Doctors say he will remain there for seven days.
He has been campaigning for a tough anti-corruption law.
The Lokpal anti-corruption bill was passed by parliament's lower house last week but stalled in the upper house.
The bill envisages setting up an independent ombudsman with the power to prosecute politicians and civil servants.
But Mr Hazare says the bill is "useless" and that tougher measures are required to reduce the level of corruption.
His 12-day anti-corruption hunger strike in August in Delhi became the focus of a national campaign and put pressure on the government to act on the issue.
He started another three-day fast in Mumbai last week but called it off on the second day after his health deteriorated. Instead, he threatened to launch a campaign of civil disobedience that would fill the country's jails.
'Improvement'
"He is strictly being advised not to undertake any kind of travel for the next one month. No protests and no physical or mental stress," Dr KH Sancheti told The Hindu newspaper on Sunday evening.
"He should allow himself to recoup; he should recognise the ageing process and accept it, giving due respect to nature," he said.
Dr Sancheti said the 74-year-old activist had shown an "improvement".
The Lokpal anti-corruption bill was passed by the lower house of parliament last week after a debate of nearly 10 hours.
But the upper house was adjourned in chaos after the debate stretched to midnight later that week and the bill was not put to a vote.
The bill will now have to be revised and presented again.
Opposition parties bitterly criticised the government for its failure to put the bill to a vote, but the government insisted that the opposition BJP was responsible for the bill not being passed.
The main opposition Bharatiya Janata Party said the government had "orchestrated" the chaos because it was not sure it could pass the bill.
But Parliamentary Affairs Minister Pawan Kumar Bansal told reporters that if the BJP wanted to back the bill "it could have been passed without any problem".