India boy dies trying to act out TV suicide scene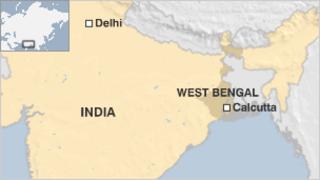 A 12-year-old boy has died in the Indian city of Calcutta while trying to act out a suicide scene he saw on television, police said.
Rahul Pramanik was addicted to crime shows and tried to act out a hanging in front of his younger brother.
Police said he hung himself from the top of a window in his room with his mother's sari.
This is the second such incident in the city - last week a 12-year-old girl died in a similar manner.
Arnali Thakurta died on 26 December at her home in the Thakurpukur area.
The latest incident took place on Monday afternoon, when Rahul's parents were not at home.
A student of Niranjan Pally Primary School, Rahul lived with his parents and nine-year-old brother Sourav in the Regent Park area.
His father Rabi Pramanik had on Monday morning scolded him for watching too many crime shows on television.
Sourav alerted his mother after he saw Rahul hanging. Police said he was taken to hospital but was pronounced dead.