Kashmir anger at power-cut protest killing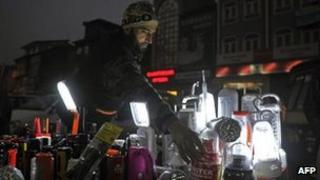 Indian-administered Kashmir's chief minister has faced angry protests after a student was killed at a demonstration against power cuts.
Omar Abdullah faced angry demonstrators as he returned from offering condolences to the victim's family.
Guards had opened fire on Monday at a National Hydroelectric Power Corporation plant at Uri, 75km (45 miles) north of Srinagar city.
Mr Abdullah said that the shooting was "inexcusable".
The government announced power cuts in December to cope with a supply shortfall, sparking widespread anger during the bitterly cold winter months.
The region's power cuts last up to 16 hours a day in temperatures as low as -15C.
Line of Control
The BBC's Riyaz Masroor in Srinagar says police had to disperse the demonstrators on Tuesday as they tried to stop Mr Abdullah's cavalcade in Uri.
Mr Abdullah told Indian television as he visited the student's family: "The circumstances will have to be treated as not an act of self-defence but the case of excessive use of force.
"The location of the injuries, the number of rounds that were fired, all of it point to an inexcusable, excessive use of force that was unwarranted," he said.
In addition to the student killed, four people were wounded.
A state government spokesman said a complaint had been lodged with federal authorities responsible for the Central Industrial Security Force guards involved in the incident.
Five guards have been arrested and their weapons confiscated.
The guards say protesters were throwing stones as they tried to storm the main offices of the National Hydroelectric Power Corporation.
Our correspondent says Uri is highly militarised due to its proximity to the Line of Control that divides the Indian- and Pakistani-controlled regions of Kashmir.
But, he says, the guards are not part of the counter-insurgency forces that are tackling militant separatism in the Muslim-majority Kashmir Valley.