India cricketer Virat Kohli fined for obscene gesture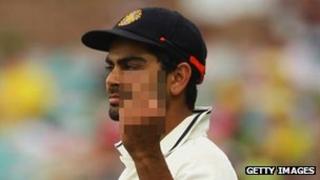 India's Virat Kohli has been fined 50% of his match fee for making an obscene gesture to fans in the second Test against Australia.
Kohli reacted to taunts from a section of the Sydney Cricket Ground crowd by raising his middle finger.
He pleaded guilty to the match referee but claimed he was provoked.
"Cricketers don't have to retaliate. [But] when the crowd says the worst things about your mother and sister. The worst I've heard," he tweeted.
Match referee Ranjan Madugalle found Kohli guilty of a level-two offence under the International Cricket Council code of conduct.
'Welcome to Australia'
"The matter has been sorted out. The player felt guilty and sorry and the matter has been closed," India team media manager GS Walia said.
"When he went to the match referee, he said sorry and that 'out of emotions I must have done it'."
England batsman Kevin Pietersen, Kohli's team-mate at Royal Challengers Bangalore, offered his support.
"Welcome to Australia buddy... That's the way it is mate... Beat them and they start abusing their own," Pietersen tweeted.
India's last match in Sydney, in 2007-08, was also controversial, when India spinner Harbhajan Singh was fined for racially abusing Australia all-rounder Andrew Symonds.